IDIA invites you to join in the conversation with leading Bharatanatyam artists and support our budding Bay Area youth in what promises to be a most enjoyable event for dance enthusiasts and art lovers. This year, we are bringing this event right into your homes, completely free of cost.
We urge you to take a break from these chaotic times and login to this world of expression.
Our artists are passionate and ready to let the spirit of dance take over. Are you?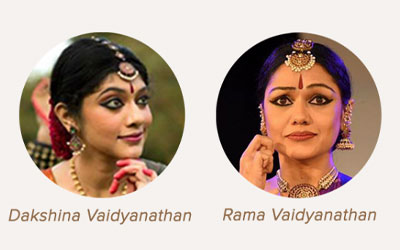 6 PM
An inside look into the thinking world of Smt. Rama Vaidyanathan. A 2017 Sangeet Natak Awardee and one of the most sought out performers of our times, Rama Vaidyanathan and dancer-daughter, Dakshina Vaidyanathan Bhagel converse about her thoughtful, sensitive, and creative process in innovative storytelling using traditional Bharatanatyam vocabulary.
7 PM
IDIA prides itself in being a community building event – this year we are proud to showcase six young adults from the Bay Area. We present Adithi Anand, Sushmita Bhatt, Navya Maitri Konda, Arya Pratap Meera Suresh, and Vibha Raju – dedicated dancers, continuing to advance their learning and committed to keeping the art form as part of their lives. IDIA applauds and supports this young generation of Bay Area Dancers.
8 PM
Sadhana is a (daily) ritual where the dancer offers his/her mind, body, soul to the art, undertaken as a meditative journey into continuing awareness of his/her own inner truth and building a relationship to expression (music, lyrics, space) through the structure of the art. Priya Das, creative arts director of Sangam Arts, engages in an absolutely inspiring discussion with some of the foremost performing artists today: Bhavajan Kumar, Ramya Ramnarayan, Meera Sreenarayanan, and Meenakshi Srinivasan.
DONATE
Even when we are physically apart, art has a way to bind us in spirit. Now more than ever is the time to support our communities. All donations will be channeled to artists in crisis due to COVID 19. We are deeply grateful for your support.